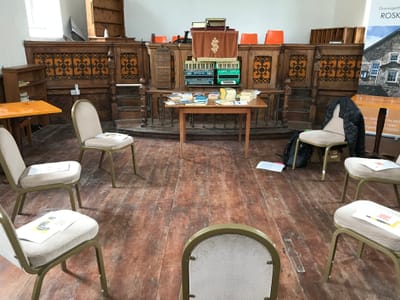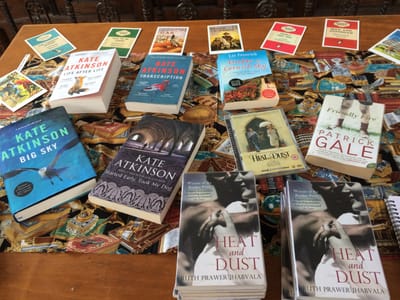 The Rescorla Book Club meets on the third Wednesday afternoon every other month at 1:30pm. The next meeting is on Wednesday 15th February 2023 at 1:30pm at Rescorla when we will be discusing 'Frenchman's Creek' by Dauphne Du Maurier.
If you would like to join the group, please contact Tracy on 07761443733.
Book Club Newsletter
Hi everyone,
It was lovely to see you again and to those of you who couldn't come, we'll hopefully see you next time.
We had a lively and interesting discussion about 'The Curious Incident of the Dog in the Night-time' by Mark Haddon. Some of us felt it was a bit of a slow start but then became a page-turner. We liked the voice that the story was told in and most of us liked Christopher – although some of us thought that he appeared selfish. We realised that he had no concept of how his behaviour could affect others. We also liked how he understood some things so clearly. It was through Christopher's 'detecting' that the mystery was solved. We all felt sympathy for his dad but wondered how he thought he could keep up the lie that his mother was dead. And of course he couldn't. The train journey was brilliantly described. This is another book that we all liked!
The book that I said this book reminded me of is: 'The London Eye Mystery' by Siobhan Dowd.
Review from The Guardian, September 2013.
The Curious Incident of the Dog in the Night Time by Mark Haddon - review
'I really enjoyed this book and I thought it was hilarious and heart-breaking at the same time'
The Curious Incident of the Dog in the Night Time is a murder novel written by Mark Haddon. Before you start reading the review, I am going to say that this is definitely not a book for the faint hearted. There is quite a fair bit of swearing and also at times, the story and accounts of Christopher Boone are quite harrowing.
So, if you are still up for the book after that, then here is a short description of the plot:
Christopher Boone is a fifteen year old boy who has a psychological disorder called asperges. Christopher lives with his father in Swindon and has a far from normal life. His dad told him that his mother died in hospital from a heart attack and Christopher had always accepted that. Although, there are things that Christopher doesn't accept. He will not eat yellow or brown foods, as he doesn't like those colours; won't eat anything that has touched each other on the same plate; and he decides on how his day is going to be by the amount of yellow and red cars he sees on the way to school in the morning. Everything in Christopher's life was content and moderately happy. Until he sees Wellington (Mrs Shears' dog) with a garden fork through his chest on her front garden. Christopher decides to investigate (after he has been arrested for hitting a policeman) who is to blame for the murder. As Christopher starts to unravel the mystery, he is beginning to open a few other blank bits in his own life. Where has Mr Shears gone? Why doesn't his own father want him to investigate Wellington's death? As he discovers a box on top of his father's wardrobe, Christopher realises that his life isn't what he thought it was.
I really enjoyed this book and I thought it was hilarious and heart-breaking at the same time. I thought that Haddon really portrayed Christopher's lifestyle in a very intimate way and with so much understanding. I think that my favourite character was probably Christopher's father because he really was a saint. He understood Christopher and tried his best at all times so I like him for that. I would obviously recommend this book to older readers as it's not really a children's book but it's not that hard core!! Hopefully, those of you who do decide to read it, will enjoy it as much as I did.
This review was published in 2019.
In this piece, Serena Shim, sister of someone on the spectrum, discusses the novel that caused so much controversy in the autism community.
Mark Haddon's best-selling novel, The Curious Incident of the Dog in the Night-Time, is a detective story about fifteen-year-old Christopher Boone. It received many awards as well as criticism by the autism community for its portrayal of someone with Asperger's Syndrome.
Christopher is presented as a mathematical genius who has trouble interpreting social situations and does not understand metaphors. When a dog is killed in his neighborhood, Christopher sets out to solve the mystery. As he becomes more involved with the murder case, he ends up discovering the truth about his own life and family. His journey in looking for the dog's murderer soon becomes a search for his mother.
Even though this novel does not directly reference autism, the book's back cover originally described Christopher as someone with Asperger's. Mark Haddon also admitted on a blog post that he did not do any research on autism, which is why there has been so much criticism towards the book. This may not have been the first fiction piece written on Asperger's, but I believe it was the first novel to achieve widespread notice. I remember when I first read this novel my freshman year of high school; it was my, as well as many other peers', introduction to the term Asperger's.
My brother is now fourteen and a half years old. Since his diagnosis, I have learned a lot about the autism spectrum, both from personal experience and research. I have come to realize that this novel is not an accurate portrayal of Asperger's. While Christopher does have many traits of someone with autism, this novel teaches readers autism's stereotypes, rather than the reality. I wish that Mark Haddon could have made a new edition with a disclaimer at the beginning of the novel.
It is unique that the chapters are numbered by prime numbers in order to tie in with Christopher's character. I also thoroughly enjoyed looking at the interesting illustrations and diagrams that were in the novel. Yet, I am disappointed that novels like these, along with the media, have popularized many stereotypes that people with autism have to overcome.
Our meeting in December is on Wednesday 14th December at Rescorla at 1:30pm.
Looking forward to meeting with you again soon.
Happy reading!
Tracy.